Federal Policy Program
Farm to School and Child Nutrition Reauthorization
Use these links to jump to the following sections:
Current Status • Child Nutrition Reauthorization • Farm to School

Child Nutrition Has Passed!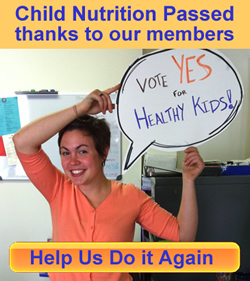 The Healthy, Hunger-Free Kids Act (S. 3307), also known as Child Nutrition Reauthorization, was signed into law by President Obama on December 13, 2010. Read the press release [PDF].
You Made A Difference
Over the Thanksgiving holiday, our members helped push the Healthy, Hunger-Free Kids Act over the finish line by participating in a photo petition to Congress. Read the press release to learn more, or view the photos they submitted below.
Child Nutrition Reauthorization
Every five years, the federal Child Nutrition bills, including the Child Nutrition Act of 1966 and the Richard B. Russell National School Lunch Act of 1946, are up for review during the reauthorization process. These two bills, as well as the Special Supplemental Nutrition Program for Women, Infants, and Children (WIC), are currently set to expire on September 30, 2009. The reauthorization process allows for a reconsideration of all programs, providing an opportunity to assess what works well, what isn't working, and ways that these programs can better serve the more than 30 million children eating school meals every day.
Farm to School
Farm to School connects school cafeterias with local producers to bring students fresh, healthy foods while supporting the local economy. CFSC is partnering with the Center Food & Justice to head the National Farm to School Network, which is coordinating policy efforts around Farm to School issues.
For More Information:
[top of page]