Federal Policy Program
Use these links to jump to the following sections:
Farm Bill • Federal Budget • Farm to School & Child Nutrition • Advocacy Toolkit
USDA local food support • Women, Infants and Children (WIC) • Urban Agriculture

About Our Policy Work
The Community Food Security Coalition's policy work seeks federal resources in the U.S. to foster community-based alternatives to the global food system. CFSC has successfully advocated to create and reauthorize the Community Food Projects grant program. Over 100 projects have received funding to strengthen local food systems, increase low-income food security while supporting local farmers, and develop local food planning and policy organizations through this program. CFSC has also advocated in support of core nutrition programs as well as the WIC and Senior Farmers Market Nutrition Programs, which provides vouchers for WIC recipients and low-income seniors to use at farmers markets, and the Farmers Market Promotion Program, helping link farmers to their communities and increase access to healthy, fresh products. Now that the 2013 Farm Bill has become law, the policy staff are tracking the rule-making and implementation processes.
Moving forward, CFSC has begun developing a platform for the 2015 Farm Bill. Please subscribe to our Policy Updates list to keep abreast of our current policy work.
Federal Farm Bill
2015 Farm Bill
Every five years or so, the US adopts a new Farm Bill. This massive piece of legislation sets the framework for what we eat, whether our food is nourishing and affordable, what assistance our society provides to feed hungry people, what crops farmers grow under what conditions, global grain and fiber markets, and how rural land is used.
This cycle is underway again, as the 2013 version of the law runs its course. This round of debate over food and farm policy comes at a time of intense and growing public interest in food issues. It also comes at a time of economic uncertainty for our families, communities and nation—when the concept of public investment in our future is under attack.
That is why it's so important for CFSC, our members and partner organizations to mobilize around the upcoming Farm Bill. Over the past 15 years, the Farm Bill has been a key vehicle for advancing our agenda, including by: helping low-income people get access to fresh and healthy food, promoting farmers markets, getting more local foods into schools, and supporting community projects that generate jobs and improve food access.
With our partners, we won significant victories in the 2013 Farm Bill. Now we are gearing up to have a major impact on the 2015 Farm Bill.
Learn more about these efforts on the 2015 Farm Bill page.
2013 Farm Bill
Though not perfect, the Food, Conservation, and Energy Act of 2013 - more commonly known as the Farm Bill - makes important incremental changes in support of local and organic food, conservation and better agriculture policies. Our 2013 Farm Bill page has a "short list" of programs that CFSC has followed in the Farm Bill and their outcomes. For more information on how CFSC's priorities stand in the conference report, see the Policy Updates on 5/8/2013 and 5/15/2013. For a more in-depth look at the Farm Bill process, you can access our archive of materials on the Farm Bill, and view weekly progress updates in our 2012 and 2013 Policy Update archives.
Read more on the 2013 Federal Farm Bill page.
Federal Budget
Since the 112th Congress took office, debate in both the House and the Senate has focused on cutting government spending. Decisions made in Washington over the next few months will have a dramatic impact on people across the country. Low-income people, including participants in federal nutrition programs, are particularly at risk from the kinds of cuts being considered.
Learn more about the proposed cutbacks and CFSC's work to educate members of Congress and the public about the dangers of harsh cuts to human needs programs.
Farm to School and Child Nutrition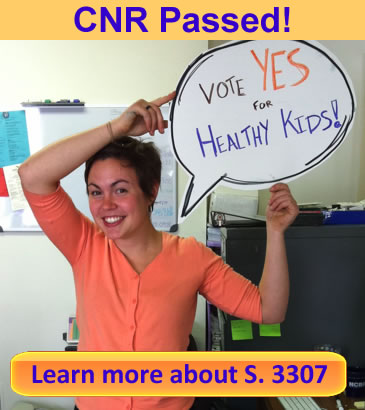 Farm to School connects school cafeterias with local producers to bring students fresh, healthy foods while supporting the local economy. CFSC is partnering with the Center for Food & Justice to head the National Farm to School Network, which is coordinating policy efforts around Farm to School issues.
Child Nutrition Reauthorization
Every five years, the federal Child Nutrition bills, including the Child Nutrition Act of 1966 and the Richard B. Russell National School Lunch Act of 1946, are up for review during the reauthorization process. These two bills, as well as the Special Supplemental Nutrition Program for Women, Infants, and Children (WIC), are currently set to expire on September 30, 2014. The reauthorization process allows for a reconsideration of all programs, providing an opportunity to assess what works well, what isn't working, and ways that these programs can better serve the more than 30 million children eating school meals every day.
Read more on the Farm to School & Child Nutrition Page
Healthy Food Financing Initiative
The Community Food Security Coalition is working to build awareness of and grassroots support for the Healthy Food Financing Initiative (HFFI), which aims to increase access to healthy foods in underserved communities. President Obama's Fiscal Year 2016 budget proposal includes $350 million for HFFI, but Congress still needs to authorize this funding. CFSC, along with PolicyLink, The Reinvestment Fund, and The Food Trust recently hosted a webinar to provide background information on food access issues, highlight the Pennsylvania Fresh Food Financing Initiative (the successful model for HFFI), and share ideas on how to advocate for funding HFFI.
Lugar-Casey Food Security Act
The Lugar-Casey bill (S. 384) addresses global food security and was introduced in February 2014. This document contains more information about the bill, as well as links to several related reports and resources.
Lugar-Casey Food Security Act [PDF]
Advocacy Toolkit
This toolkit is designed to aid you in understanding the U.S. political process and to empower you to make your voice heard. For more detailed information on our Government and how it works to "enact the will of the people" visit www.whitehouse.gov/our_government.
USDA Local Food Support
USDA Deputy Secretary Kathleen Merrigan released a memo on August 26, 2014: Harnessing USDA rural development programs to support local and regional food systems. [PDF] The memo is a welcome call to action on ways that USDA programs can promote local and regional food systems. Some key points of the memo are highlighted on the Obama Foodorama blog.
In September 2014, the US Department of Agriculture launched a new initiative, Know Your Farmer, Know Your Food, (KYF2) led by Deputy Secretary of Agriculture Kathleen Merrigan. According to the Department, this initiative "is the focus of a task force with representatives from agencies across USDA who will help better align the Department's efforts to build stronger local and regional food systems." "Americans are more interested in food and agriculture than at any other time since most families left the farm," said Merrigan. "'Know Your Farmer, Know Your Food' seeks to focus that conversation on supporting local and regional food systems to strengthen American agriculture by promoting sustainable agricultural practices and spurring economic opportunity in rural communities."
In a memorandum from Deputy Secretary Kathleen Merrigan dated October 27, 2014, the Department of Agriculture highlighted its programs that are being used to support local food systems under their Research, Education, and Economics mission area. These programs include Community Food Project grants, Sustainable Agriculture Research and Education, Small Business Innovation Research, and many others. This is a helpful resource for anyone hoping to gain a better understanding of the role USDA can play to support community food security and local food systems.
Women, Infants & Children (WIC)
The Special Supplemental Food Program for Women, Infants, and Children (WIC) is a federal nutrition program that offers nutrition education, health care, and nutrient rich food packages for low-income pregnant and lactating women, infants, and children. The food packages are meant to supplement the diets of these vulnerable groups during periods of growth and development as a preventative health care intervention, and therefore WIC-eligible foods must be rich in protein, calcium, iron, vitamin A, and/or vitamin C to meet the increased nutritional needs of the recipients.
The USDA issued an interim rule in 2012, changing the WIC food packages to better comply with the 2010 Dietary Guidelines for Americans, and WIC state agencies have until October 1, 2014 to implement the changes. Some of the major changes to the WIC food packages for pregnant and lactating women, infants and children include the addition of whole grains and cash value fruit and vegetable vouchers, an increase in low-fat milk and canned meat choices, and the addition of baby food to replace juice for infants. The new WIC food packages also eliminate servings of cheese and eggs. The interim rule is open for comments until February 10, 2015, at which point the USDA will review comments and issue a final rule on the WIC food packages.
Update 2/1/10: In October, Congress increased the cash value of the WIC fruit/vegetable vouchers for women from $8/month to $10/month as recommended by the Institute of Medicine (IOM). CFSC and several other national organizations successfully advocated for this increase, and we are pleased that USDA is encouraging State WIC agencies to implement this change as soon as possible, with a deadline of April 30, 2015.
CFSC is continuing to advocate for improvements in the WIC program. On February 1, we submitted comments on the WIC Food Packages Interim Rule to USDA asking for the following improvements:
Increasing the cash value of the fruit/vegetable voucher for WIC children to $8/month, and for fully breastfeeding women to $12/month;
Requiring State WIC Agencies to allow split tender to enable families to maximize the full benefit of their fruit/vegetable vouchers;
Requiring State WIC Agencies to allow these vouchers to be redeemed at farmers' markets; and
Modify WIC regulations to allow states to use the same vendor-related structures as the Farmers Market Nutrition Program (FMNP).
Read CFSC's comment letter on the WIC Food Packages Interim Rule [PDF]
New Report: State Implementation of the New WIC Produce Package: Opportunities and Barriers for WIC Clients to Use Their Benefits at Farmers' Markets [PDF]
The new WIC fruit and vegetable package will create a $500 million market annually for produce. Even if 10% of these benefits were spent at farmers markets, it would provide a big boon for access to local food and to small farmers. This report discovers that half of the states are shutting farmers markets out of this potentially lucrative market, and looks at the reasons why.
Press Release about the report [PDF]

Urban Agriculture
Because approximately 80% of the population lives in metropolitan areas, urban agriculture is an effective and necessary means for the food insecure to gain access to fresh, affordable, nutritious food. Urban agriculture can also provide innovative solutions to many other issues common in urban areas such as air pollution, waste removal, energy usage, and economic development and community revitalization. The CSFC's Urban Agriculture Committee is in the process of forming priorities for upcoming legislative opportunities.
Legislative Background
Local Food and Farm Support Act (HR 2364)
Section 13: Urban Agriculture Production Program
Provides grants and technical assistance to private non-profits to promote agricultural production capacity in metropolitan counties.
FOOD for a Healthy America Act (S. 1432)
Tools for Advocacy
CFSC Publications Related to Urban Agriculture
[top of page]