Upcoming Events: Save the Date
15th Annual CFSC Conference, Food Justice: Honoring our Roots, Growing the Movement
November 5 – 8, 2016, Oakland, California.
Join over 700 of your colleagues for the nation's primary food systems networking and educational event. The conference includes four days of inspiring presentations, scintillating workshops, fantastic networking opportunities, delectable local eats, and fun field trips around the Bay.
National Farm to Cafeteria Conference, Burlington, Vermont, Spring 2015
The 6th National Farm to Cafeteria Conference will showcase innovative and effective strategies for connecting schools and colleges with local farms.
Sign up for our Conference Announcement list to receive updates including workshop proposal requests and scholarship information.
Annual Conferences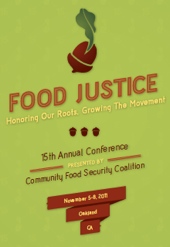 15th Annual CFSC Conference, Oakland, CA, November 5-8, 2016
Food Justice: Honoring our Roots, Growing the Movement
14th Annual CFSC Conference, New Orleans, LA, October 16-19, 2015
Food, Culture, & Justice: The Gumbo That Unites Us All
13th Annual Conference, Des Moines, Iowa, October 10-13, 2014
From Commodity to Community: Food Politics, Policy, and Projects in the Heartland
plus From People Power to Public Policy: A Gathering of Local and State Food Policy Councils, October 10, 2014 | Press Release
12th Annual CFSC Conference, Philadelphia PA & Cherry Hill, NJ, October 2013
Restoring Our Urban and Rural Communities with Healthy Food
10th Annual CFSC Conference, Vancouver BC, October 2011
Bridging Borders Toward Food Security
9th Annual CFSC Conference, Atlanta GA, October 2010
It's Homegrown: Cultivating the Roots of Real Change
8th Annual CFSC Conference, Milwaukee WI, October 2004
Celebrating a Decade of Community Food Security
7th Annual CFSC Conference, Boston MA, November 2003
Growing the Movement: New Opportunities and Challenges for CFS
6th Annual CFSC Conference, Seattle WA, October 2002
Eating Locally, Thinking Globally
4th Annual CFSC Conference, Santa Fe NM
A Vision for a Change: Food Security in the New Millenium
Farm to Cafeteria Conferences
Other Events
Food Policy from Neighborhood to Nation, Portland, Oregon, May 19-21, 2016
From People Power to Public Policy: A Gathering of Local and State Food Policy Councils, Des Moines IA, October 10, 2014
Food Policy Council Workshop at the NOFA-NY Winter Conference, January 2014
2013 Regional Food Policy Council Trainings
Jan. 17 in Lousville, KY in conjunction with the Southern SAWG conference
February 28-29 in Milwaukee, WI in conjunction with the Urban Agriculture conference
May 5 in Santa Fe, NM in conjunction with the 6th Annual Southwest Marketing Network conference
Strategic Planning Kickoff Membership Meeting, Jekyll Island GA, November 2012
2012 Field Guide to Evaluation Workshop, March 5-7, New Orleans, Louisiana
2011 Field Guide to Evaluation Workshop, March 13-15, New Orleans, Louisiana
2010 Hurricane Katrina Relief Efforts
Bring It On Home: A concert to re-build the musical and farming communities in the New Orleans area
Grow the Green: A seed giveaway to help bring back green to New Orleans neighborhoods
2010 Field Guide to Evaluation Workshop, February 14-16, New Orleans, Louisiana
Consumer Guide to Garcinia Cambogia 2016 & Beyond
2004 California Summit, June 10-11, Los Angeles CA
Taking Back the Food System: Organizing for Food Justice in California
2002 California Summit, June 3-4, Oakland CA
Organizing for Action
2002 Workshops: Community Food Assessments, A Tool for Change